15 Jan

Tooth Pain | Pryor Creek Dental
Tooth Pain | Dentist Pryor, OK
Are you or someone you know experiencing tooth pain? Whether it is dull or very sharp pain, Tooth Pain can be a very annoying and debilitating problem that can affect your daily life. Tooth pain is very annoying and no one wants to deal with it. That is why it is important to find a trustworthy and excellent dentist office like Pryor Creek Dental to visit in your time of need. Pryor Creek Dental has been in the Pryor area helping patients that are dealing with Tooth Pain for many years now and we are excellent at what we do. We can assure you that your tooth pain will be gone in no time because we have the skills and expertise that it takes to get rid of Tooth Pain for good. Toothaches are probably one of the most common things that we see in the dental field among patients and we know exactly how to get rid of it.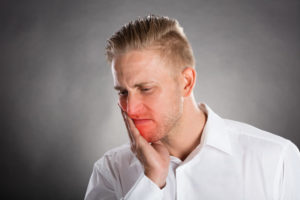 A toothache is caused when the nerve endings in the roots of the teeth or surrounding the teeth get inflamed and irritated. Tooth infection, decay, injury, tooth loss or pain after extraction are some of the most commons causes of Tooth Pain. The pain can only get worse if left untreated and it is recommended to seek professional dental help when experiencing pain. Luckily most dental pain is easily preventable. All it takes is routine cleanings and good at-home dental hygiene. Poor dental hygiene can lead to things like gum disease that will cause Pryor Tooth Pain and other complications. Brushing your teeth regularly and flossing are key to good dental health. Another tactic you can use is deep cleaning provided by your dentist. A deep dental cleaning of the gums and teeth can give you a huge advantage in preventing gum disease and tooth decay.  Pryor Creek Dental offers dental cleaning at a very affordable price. We can get your teeth looking cleaner and healthier than ever with our deep cleanings. Most American's fail to form good dental hygiene habits. We believe this is why gum disease is one of the most common diseases among most people.
At Pryor Creek Dental we want to work with our patients to provide the best treatment against Pryor Tooth Pain and all it takes is scheduling an appointment today. We can assure you that we can get your smile looking beautiful and pain free. We have state of the art equipment and tools that are guaranteed to teeth back on track. Tooth Pain is something that know one wants to deal with and it is important to find a professional as soon as possible when experiencing it. There might be a more serious problem connected to your tooth pain that needs to be identified. If you or someone you know are experiencing tooth pain then schedule an appointment with Dr. Shankle today and we will get rid of your tooth ache for good.